We bring logistics solutions to your door, offering specialized services tailored to your needs and expectations.
Our goal is to facilitate all the logistics processes of our clients, relying on our experience, knowledge and quality.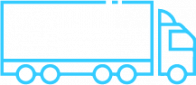 TRANSPORTATION SERVICES
As a leading specialist within the logistics field, Transmaritime, Inc. has built a comprehensive transportation network that supports the streamlined scheduling and control of cargo pickup and delivery.

WAREHOUSE STORAGE
We've grown from being a provider of simple bonded storage solutions to being a full "3PL" specialist. We offer our clients great access to a full range of solutions that work to streamline their inventory management needs at every stage of the shipping process.

DISTRIBUTION SOLUTIONS
We present our clients with high-functioning distribution solutions that allow them to not only meet and exceed customer service expectations but also consolidate a cost-effec- tive flow of goods from point-of-origin to point-of-consumption.

OFFICE AND YARD SPACE
As a leading organization within the logistics field, we have developed a thorough understanding of the business needs and requirements of our clients.
We are a company with over 100 employees in Texas. Our staff is bilingual in english and spanish.